Lucille, don't chew brake your daddy's will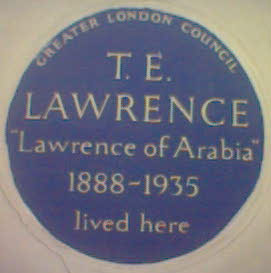 Back in Gotham City on m'folding bike Lucille. I was peddling round the back of Westminster and stumbled upon T.E Lawrence's house. I was so inspired I rushed back to the office to listen to my WWII movie themes on Music Match juke box.
Colonel Bogey
is very much the ideal music to have on whilst writing Lotus Notes Applications. When it finishes you can shout out "what have I done", just as Alec Guiness does in Bridge over the River Kwai.