Exam MADNESS, threatens our way of life!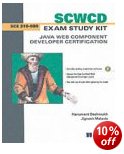 In keeping with the exam fever at Billy Bob's I passed Sun's Java Web Component Developer exam today. To pass it I just read Sun Certification Web Component Developer Exam Study Kit, which is an excellent book.

If you are thinking of doing this exam then make sure you do a lot of work on JSPs and Tag Libs, they are quite hot on this stuff.

Of course, if your finding all this a little uninspiring then there are alternatives; Cheese Making for instance.